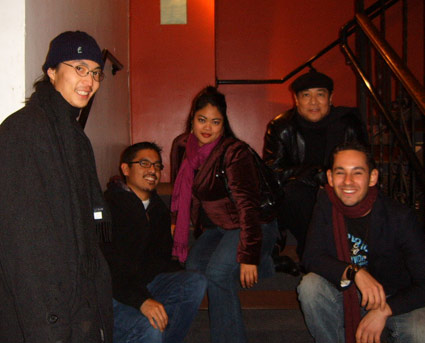 Rich, H.P., L.A., Larry and Jake after the preview slash test screening in SF.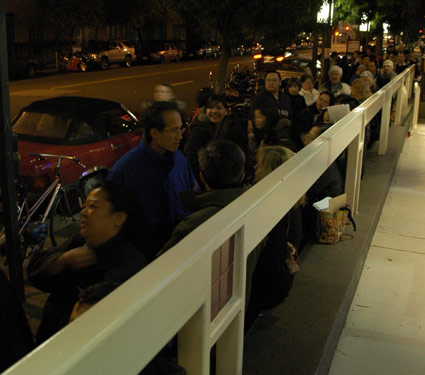 The world premiere sold out the 700 seat Kabuki, and turned away over a 100 people.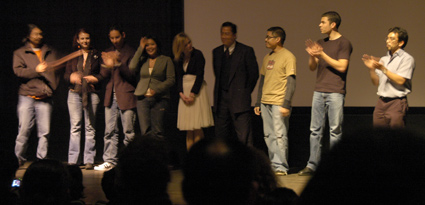 Rich, Kat, Jake, L.A., Sigrid, Larry, H.P., Paul and Angel at the world premiere Q and A.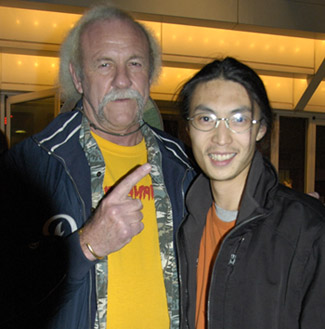 Rich and Jim at the world premiere.


Jim gives H.P. a ride at the world premiere Q and A.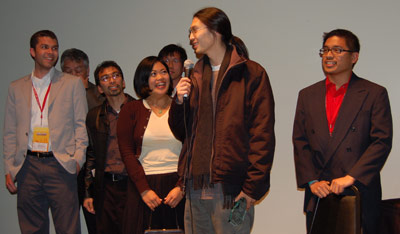 Us accepting the Special Jury Prize at SFIAAFF.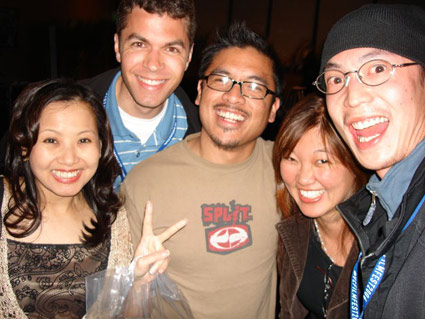 Paul, H.P. and Rich with our festival buddies Stacy (right) and Julia (left) who directed Eve and the Fire Horse. If you have a chance to see it, GO! It's BRILLIANT!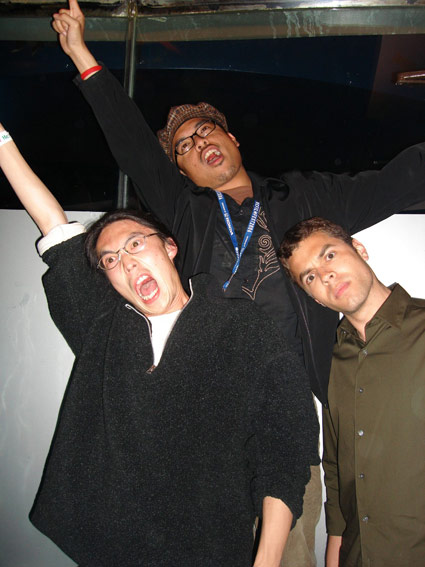 Rich, H.P. and Paul in an alcohol induced pose during VC.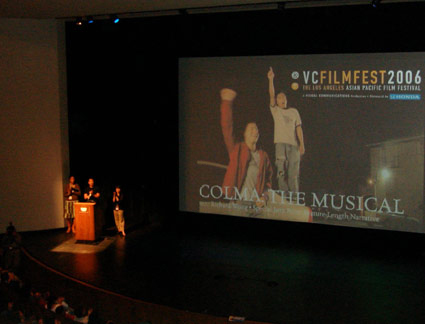 The announcement of Colma: The Musical winning the Special Jury Prize at VC...we were stuck in LA traffic at the time... :(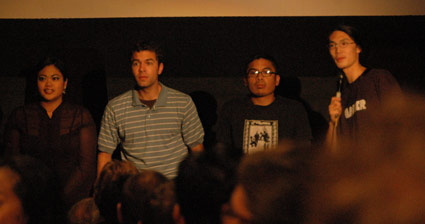 L.A., Paul, H.P. and Rich at the Frameline30 Q and A.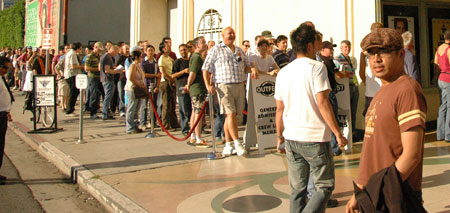 The line outside the Regent Showcase for our screening at Outfest.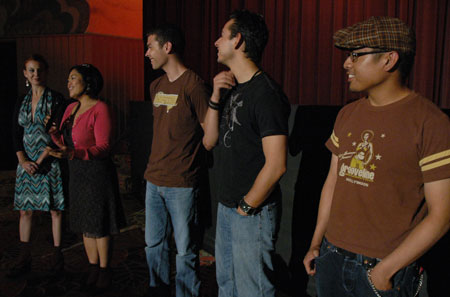 Kat, L.A., Paul, Jake and H.P. at the Q and A at our Outfest screening (I'm taking the picture).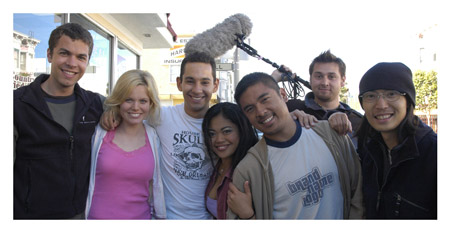 RICHARD WONG - Director, Director of Photography, Producer, Editor is a native of San Francisco, California. Colma: The Musical is his feature directorial debut. He broke in as a video engineer on episodic television, most recently on the Emmy® Award-winning comedy Arrested Development. He has served as cinematographer for a slew of short films and pilots and is a 2005 International Cinematographers Guild Film Showcase Award Honoree for his cinematography on the film Surfacing. He currently is working with Wayne Wang on a project and is developing another musical with H.P. Mendoza.

H.P. MENDOZA - Songwriter, Lyricist, Screenwriter, "Rodel" is a native of San Francisco whose writing credits include Brown Sheep of the Family, Over the Walt Whitman, and the first three installments of the Magic At series. Colma: The Musical was originally written as an indie pop album. H.P. Mendoza did guest work on the albums of Philadelphia bands Super Avilyn and Elek-true, but recently completed his solo album, Everything is Pop. He is currently working with Richard Wong on another musical as well as a sequel to COlma - "Serramonte: The Musical".

PAUL KOLSANOFF - Producer, "Kevin" joins the collective of native San Franciscans in the Colma crew. His directing credits include the short films The Eviction (2001), School Yard (2002), Firetrap (2003) and most recently the music video Gravity for Liz Pisco. He is a VFX Production Coordinator at The Orphanage and has worked on such films as Sin City, The Day After Tomorrow, Hellboy, Superman Returns and Pirates of the Caribbean 3: At World's End.

ANGEL VASQUEZ - Co-Producer is recognized for his experimental films Azul (2001) and "9-11" film A Change of Faith (2002) which received the Princess Grace Film Award. His current works as Producer include Cachao: For the Love of Cuba, and Robin Dettman's narrative short Where are you Going, Where have you Been? Angel currently teaches cinema at Bowling Green State University in Ohio.

JAKE MORENO - "Billy Castillo" has been performing in the Los Angeles area for such production companies as Fahren Productions and Renaissance Theatre starring in Fahren's Showcase and West Side Story, respectively. Film roles include: Gunplay, The Meter Man and Jake's Box.

L.A. RENIGEN - "Maribel" has worked with Bay Area theatre companies such as Woman's Will, Teatro ZinZanni, Tongue in a Mood, Teatro ng Tanan, Bindlestiff Pinay Collective, and was a resident artist at Bindlestiff Studios, which focuses on Filipino-American performing arts. She premiered her one-woman show in 2002, which she also wrote and produced. Film work includes the title role in The Red Hen and Libby, in the feature film, Goodbye, Guy Guy; both with Two Rats Films. She holds a B.A. in Theatre Arts from San Francisco State University.

SIGRID SUTTER - "Tara" is thrilled to join the cast & crew of Colma: The Musical. A Southern Californian turned San Francisco resident, she has worked on stage around the Bay Area with The Cutting Ball, San Francisco Playhouse, Woman's Will, Word for Word, Steinbeck Presents!, and Actors Theatre and in the United Kingdom with Uncle Sid's Theatre Group. Sigrid recently appeared as a spokesmodel in commercials for Dove's Campaign for Real Beauty and Verizon Wireless and on TV's Today Show, Ellen and Oprah. She has studied drama in England, French in France and coffee in Santa Rosa.

BRIAN RAFFI - "Julio Castillo" has been seen in the Bay Area plays Murder of the Will, The Elephant Man, Night of Terror and Couch to name a few.

LARRY SORIANO - "Rodel's Father" is a native of Los Angeles, California, with a Bachelor's degree in Business Management. He entered the entertainment industry five years ago having attended acting schools and performing in school plays during his grade school years. Larry is also into martial arts, combat shooting and is learning to play the saxophone during his free time. His screen credits include Rush Hour 2, Memoirs of a Geisha, West Wing, Gilmore Girls and Ally McBeal.

GIGI GUIZADO - "Billy's Mom" has performed in numerous Bay Area theatre productions including Anton in Show Business and Inspecting Carol with San Jose Stage Company, Jekyll & Hyde The Musical with Willows Theatre, Pal Joey with Marin Theatre Company, Cabaret with Allegro Theatre Company, The Mystery of Edwin Drood with Center REP, Lend Me a Tenor with Indian Alley Theatre, Rhinoceros with EXIT Theatre, and her playwriting debut, The Fashion Show, at The Marsh. Gigi's work as a dramatic actress will be featured in the upcoming film short, Soledad Is Gone Forever.

ALLISON TORNEROS -"Amanda" a native of San Francisco, is a newcomer to acting and the film industry. She has been featured in Oh Amsterdam productions of Girl, Distractions, and Contradictions of the Heart. Originally a model and dancer, Allison has been dancing since the age of five. Allison is currently based in Los Angeles and studies as a Design/Media Arts major at UCLA.

KAT KNEISEL - "Joanne" studied acting at Sarah Lawrence College in New York and the British American Drama Academy in London. She lived in Manhattan for two years, where she was an ensemble member of the True Story Project- an extension of Visible Theatre Inc. She also performed in various original one-acts with Lovecreek Theatre in New York. She has a passion for Shakespeare and original contemporary work. She would like to thank the cast of Colma and the staff at Teatro Zinzanni for the amazing new friendships and inspiration.

JIM WIERZBA - "Hulk Hogan"

DAVID SCOTT KELLER - "Michael", Ensemble Vocals

DUSTIN NORTH - "John", Ensemble
JEREMIAH COTHREN - Ensemble
MICAH ENLOE - Ensemble
JODI BECKER - "Vintage Girl"
TRISTAN OTT - "Hipster Guy"
BILLY TOMPKINS - "Young Employee"
DARCY VILLERE - "Gary"